You know how Oprah has a favorite things week? She talks about stuff she uses and then bribes people with cars and candles and whatnot. I think that's pretty cool, except I have no sponsor and no money for giving things away, but I'd still like to share what food related gadgets and food products that I really do use. If marketing reps for any of these products want to send me stuff, I won't stop you.
The Oster Food Steamer 5716.
Vegetarian? Carnivore? Omnivore? It makes no difference what you're into, you need one of these yesterday. This unit features two stackable steam compartments and a pan. You can use just one compartment if you want. The versatility doesn't end there, one of the steam pans has indents for steaming eggs. I mainly use this for hard steamed eggs, and steamed rice, but you can steam asparagas in the bottom while salmon or shrimp or crab legs steam to perfection in the top. It's also great for steaming hot dogs, brats, and even chorizo. When the digital timer goes off the steamer automatically goes into a warm mode. There is a clear water reservoir and spot to add more water when it gets low without having to take everything apart. Unlock a whole new dimension to your cooking with this product. Seriously, go buy this now.
Hamilton Beach Set n' Forget 6 Quart Slow Cooker.
Another must have. Sturdy. Reliable. Metal. This beats your crock-pot in several ways.
1. Electronic timer - You can set the time, the heat level, and even the desired temperature of the product.
2. Temperature Probe - Stick the thermometer in the meat, set the cooker to stop when the roast hits 150-155 and go to work. Once the temperature is reached, the cooker goes into a warm mode for up to 10 hours more.
3. Lockable Lid - The lid can be clamped down to the cooker, not the pot itself. This way, the whole thing can be transported or you can hold more steam and moisture in thanks to the rubber gasket lining the lid.
4. Heavy Duty - The actual crock-pot is heavy and tough, meaning that you don't have to treat it with kid gloves. The pot is oven safe for those recipes that call for a crispy crust on top.
5. Stainless Steel - Stylish and easy to clean. Most modern lofts and apartments have stainless appliances anyway, so this fits in quite nicely.
I've cooked a chicken, a 10lb pork shoulder, my Spicy Sausage & Beef Cincinnati Style Chili, Mac n' Cheese, and more in this cooker. It has brought me much joy and many nom noms.
Tyson Spicy Chicken Breast Fillets.
What really surprised me about this product was how microwave friendly it was. Normally, things like this are best in the oven. In the microwave, they typically come out too hard or dry. This product was crisp on the edges and moist on the inside with slow, satisfying heat. I just make sandwiches with them using Klosterman's buns, swiss cheese, and a little blue cheese dressing.
I currently use an electric burner because I have a gas stove but I never turned the gas on. I just didn't want to deal with the hassle. The electric burner takes forever to heat up and the temperature controls are a little touchy. Here's what I'd love to get my hands on: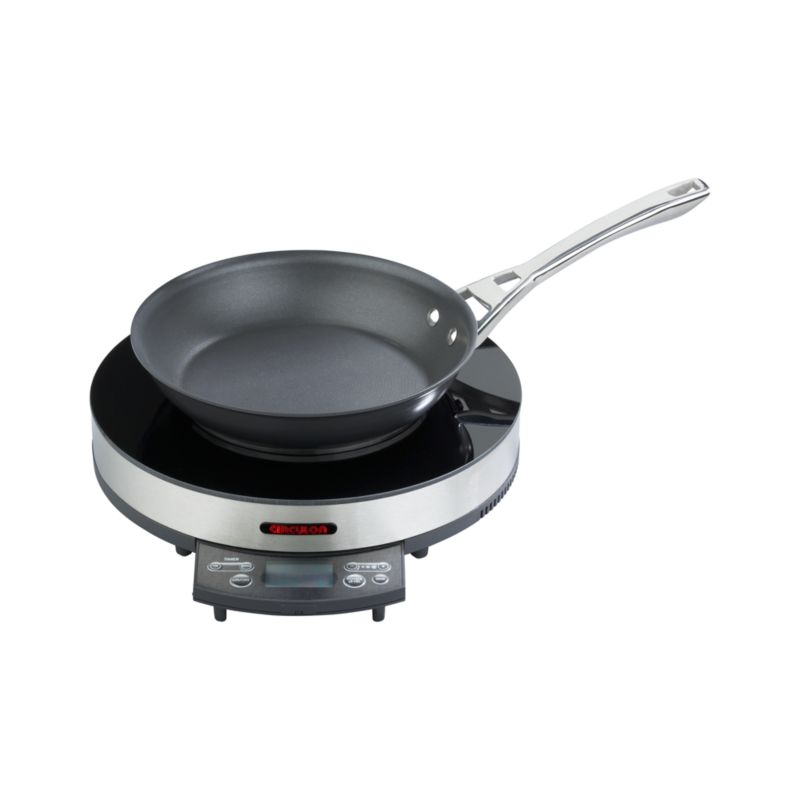 Meyer Induction Burner. Crate and Barrel. $199.95
From Crate and Barrel:
The hot plate goes haute with this state-of-the-art update. The high-frequency electromagnetic field penetrates a pan, circulating electric current that turns the pan itself into the heat source. This extremely efficient, environmentally friendly cooking method uses 90% of the energy created, compared to about 55% using traditional methods – and boils water twice as fast. Features include nine pre-set power levels, seven pre-set cooking temperatures, 10-hour timer and user-friendly control panel that slides inside the unit for compact storage (see additional photos). Perfect for an extra burner in the kitchen, tabletop cooking, buffet or dorm room.



Stainless steel, plastic and ceramic
9 pre-set power levels from low simmer to high
7 pre-set temperatures from 150 to 430 degrees
10-hour timer
Clean with a damp cloth
I want one.
So...what's your favorite thing?